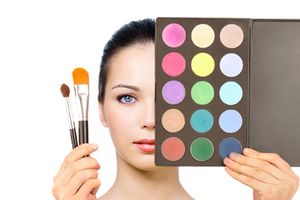 Professional makeup is an art of creating an exceptional look and professional makeup artist are the expertise in delivering that exceptional appearance. If you wish to stand out of the ordinary crowd then you need to adopt the various styles and tips used by the professional makeup artist. These tips are sure to tell you how and when to wear a right kind of makeup. Well! You cannot continue with the makeup styles that were famous in past as makeup is something that progresses in fraction of minute. Hence you need to stay connected with the fashion world to look good.
Get a Right Foundation
The base of every makeup is choosing and applying a right foundation. When we talk about choosing a right foundation, it means choosing a shade of foundation that matches with your skin tone. Foundations come in different shades, namely for dark or dusky skin, whitish skin and for fair skin. Hence you first need to study your skin tone and accordingly finalize an appropriate foundation shade. Foundation is not limited to shades. You have to be particular about its type. Usually a cream based foundation is recommended for a normal to dry skin, however when you have an oil skin, you need to go for a water based oil-free foundation.
Before applying foundation, you need to prepare your face for the application. Cleansing and moisturizing are the basic steps before applying a foundation. Once you are done with it, blend a small amount of foundation all over your face, neck, ears and back. To hide scars, dark circles or blemishes, use concealer before applying the foundation. This would give a flawless skin effect.
After applying foundation, you need to set it properly by a translucent powder. This gives a matte finish and your foundation settles well on your skin.
Emphasizing Your Lips
Your lips are the important highlights in the overall makeup. Make sure you moisturize them well with a good lip balm which will prevent them from chapping on lipstick application. Light and glossy shades are in. Try to avoid outlining your lips with dark lip pencil with a combination of light shade. Merge both the shades to give a natural look. You can choose to apply shimmers, glossy and matte finish lipsticks depending on the attire and occasion. Outlining the lips is essential as it well defines your lip shape.
Sharpness of Your Eye
A little eye makeup and your eyes speak a lot. Eyes are distinctively defined with the makeup. Outlining your eyes with eyeliner and kohl highlights your eye shape. Applying different shades of eye shadows bring a different get up. Touch of mascara emphasizes your eye lips. Eyeliners come in various shades and so do the kohl pencils. However, the best of all time is dark brown or black color. With these two shades of eyeliner and kohl pencil, you get the depth of your eyes. Besides, there are powder liners available to give a smoky look.
Makeup completely changes your look and brings a new one in you. However, at the end do not forget to remove your makeup by cleansing it thoroughly. Makeup for longer period of time can be harmful for the skin. Hence, cleaning it off is an essential part of a makeup. Follow these professional makeup artist tips and get the right looks everyday.