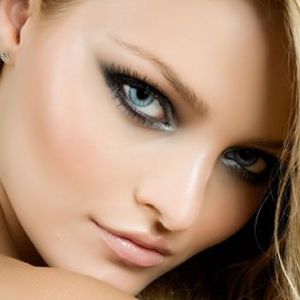 Eyes can catch and hold your attention. Times in memorial eyes have charmed many. Eye makeup tricks help to make eyes more attractive and illuminate your face. Eye make up tricks will make a difference between naked eyes and your made- up eyes.
Eye make up tricks that you always wanted to know are listed below:
Big eyes add beauty:
The best product that helps to make your eyes look big is mascara. They make your eyelashes look longer and thicker. Using eyelash curler gives maximum curve to your eyelashes. It makes them look longer too. This magnifies your eyes.
To get an open eye look:
Apply light color shadow all over your eyelids. Then color the crease with a slightly dark shade. Too much dark shadow make your eyes recede. Peach, gold, tan and beige are all shades that will work well.
Dab a spot of a lighter shadow in the middle of the eyelid.
Apply thin eyeliner on the eyelids.
Mascara can be applied in two or three thin coats. Make sure to put the wand on the base of your lashes and pull it all the way to the end smoothly.
Illusion of close set eyes:
You cannot make your eyes closer, if they are set wider apart but you can surely create an illusion.
Apply light eye shadow on your eyelids
Apply a medium tone shadow in the inner corner of your eyelids. Blend the color applied through the outer lid.
Eyeliner applied way across the lids and follow with mascara.
Set your eye wide:
If your eyes are closer and you want them to make them look wider try the below eye make up tricks:
Light color shadow when swept over your eyelids, will make your eye look wider. Apply it slightly past the inner corner of your lids.
Start at the middle of your lids, and apply a dark or medium colored shadow to the outer corners. After this blend the both well.
When you apply mascara, apply it in two or three coats by concentrating on the outer corners.
Contrasting beauty:
The best way to emphasize your eye color is to wear contrasting makeup. Women with light blue eyes should use dark tones. Women with brown eyes should wear light shadows to give an intense look to your eyes. For blue eyes:
Light charcoal, tan or dark to medium shadow, emphasized on the crease of the outer eyelid with heavy application in that area looks beautiful.
Apply dark brown or black eyeliner to the lower and upper lids.
Brown eyed girls should try these following:
Use bronze, pink, peach, or pale green shadows.
Line your lids with black or brown liner. Follow this up with mascara.
For green eyes follow the below tricks:
Apply pink, beige, lavender or brown shadow.
Use black eyeliner or brown one and follow it up with black mascara.
Eye makeup tricks transform your looks. Experimenting and trying novel tricks will make your eyes stand out and catch attention.